전문가용 DSLR 니콘 D3X 리뷰
Nikon Intros 24 Megapixel D3X DSLR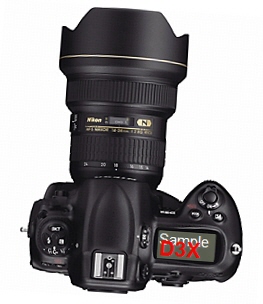 니콘은 2008년을 장식하는 시점에 최고의 역작 D3X를 내놓았다.이 모델은 프로 사진작가의 비지니스용으로 제작된 전문가용 DSLR 최고라인업된 제품이라고 제작사는 말한다.

니콘은 기존 프레스용 모델 D3와 함께 이번 D3X는 완전한 최고품DSLR라인업을 이루게 되었다.
이 D3X는 2008년을 마지막으로 최신 기종이다.

The new flagship Nikon D3X DSLR offers 24.5 megapixel resolution.

Nikon has introduced its new top-of-the-line digital SLR camera, the Nikon D3X, a 24-5 megapixel FX-format DSLR that offers continuous 5 frames-per-second shooting at full resolution, along with a complete slate of high-end features sure to please professional photographers and simply wow the rest of us. The D3X can capture images at wieher 12-bit or 14-bit resolution to ensure high image quality…and at 24.5 megapixels, each RAW image is roughly 138 MB in size.

"The new 24.5-megapixel FX-format D3X D-SLR provides the extreme resolution and high dynamic range capabilities needed to meet the extraordinary needs of photographic disciplines such as high fashion, commercial advertising, and fine art," said Nikon's general manager for SLR systems product marketing Edward Fasano, in a statement. "The D3X delivers this remarkable capability while fitting seamlessly within the Nikon system, taking full advantage of Nikon's world-renowned collection of NIKKOR lenses and Speedlights."



A full overview of features is impossible here, but a few highlights include a 51-point autofocus system, two Live View modes for handheld and tripod use, up to 27×zoom on the 3-inch preview LCD screen for framing shots (and a virtual horizon on the viewfinder), dual CF card slots (with overflow, backup, and copy capabilities), ISO sensitivity down to 1600 (with expansion options taking it down to ISO 6400), a swath of of video outputs (NTSC, PAL, HDMI), USB connectivity, and (of course) complete compatibility with Nikon's NIKKOR lenses, SpeedLights, and other system accessories. The unit also offers in-camera image editing (including trim, color balance, filter effects, red-eye correction, and monochrome settings), an external flash shoe, self-timer, and even a voice memo function.

And, of course, all this comes at a price: Nikon will begin offering the D3X this month at a suggested price of $7,999.95—but we understand that includes a camera strap.
현재 일본 출시가 90만엔, 원화가 1300만원 정도임.




알려진 스펙을보면 아래와 같다.
Same Pro-style, weather-resistant, Mg-alloy Body as the Nikon D3
.
24.5 Mega-pixel FX-format, 35.9 x 24mm CMOS sensor with 5:4 and DX
crop modes.
Framerates of Five FX images-per-second or Seven 10MP DX images.
51-point MultiCAM3500FX Autofocus System (same as D3).
16-bit EXPEED Image processor, an industry first. Helps to produce 75MB RAW files.
ISO 100 to 1600, expandable to ISO50, ISO3200, and ISO6400.
3-inch, 920,000 pixel LCD Screen with Contrast-detect Live View
Dual Compact Flash card slots written to at 35MB/sec.
관련뉴스 바로가기